"What happens in Vegas stays in Vegas" is probably a good policy some of the time, but this past weekend my wife and I were in Las Vegas and what happened there needs to be shared. We arrived in Vegas around 1PM on Friday and immediately checked in at the MGM. Our room wasn't ready yet so we checked our bags, got something to eat, then took the monorail to the Flamingo to pick up our Donny and Marie show tickets for later that night. Yes, that's right Donny and Marie Osmond!My wife's always been a fan, but ever since she saw Marie on Oprah last year she's wanted to see the show.
In November I surprised her for our anniversary with a trip to Vegas and tickets to D & M. Unfortunately the show was cancelled at the last minute. We were able to get tickets to LOVE, but Ray was still very disappointed, she really had her heart set on seeing D & M.
When we got home I sent an email to the Flamingo explaining the purpose of our trip and our disappointment (well not so much mine, but hers) at the sudden cancellation. Two days later I opened my email and found a response from the Flamingo's Entertainment Coordinator. In it she not only apologized for the inconvenience but invited us back to see  D & M compliments of the Flamingo!  Well we took them up on that offer last Friday night. Imagine our surprise when we picked up our tickets Friday afternoon and discovered that she'd seated us at table one, seats3&4! Incredible! I had assumed they'd simply comp us general admission which is what I had originally purchased, boy was I wrong! They went above and beyond on this one! And Ray and I are very grateful.  you should never assume anything!
And the show? Well, I have never really been into D & M even a little, but that all changed Friday. The show was incredible! Donny & Marie are extremely talented entertainers. They sing, they dance, they reminisce, and they rib each other to no end! The bantering between brother sister is a crack up! I came away with a real appreciation for D & M, and may actually be leaning towards becoming a fan! Especially of Marie, she's gorgeous! I may have even come away with a little crush!  Seriously though, Ray and I had an incredible time! If your headed to Vegas anytime soon I highly recommend the D & M show at the Flamingo. We will definitely be going back to see it again, maybe this summer.
I also recommend the Flamingo as the place to go. It has a very comfortable feel about it, and they really knows how to take care of their customers!  When your there be sure to visit the Sin City Brewing Company located near the rear of the Flamingo. It's a great place to relax. We spent some time there and had a great time! 2 pitchers for $15.00 for microbrew, it's a bargain believe me! The Flamingo rocks!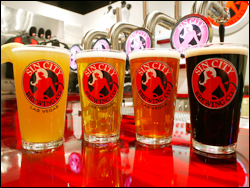 J S
Facebook Comments