Well football fans the season has officially begun! Today, on the tenth anniversary of the 9/11 attack on America, yet another NFL season got underway. Yeah, yeah, I know what you're thinking, the first game of the season was actually played Thursday night, but come on, any true football fan knows the real season begins on Sunday! Sunday is football day. It's tradition! Sure Thursday nights game was an awesome, high scoring affair, a battle between the Super Bowl champs of 2010 &2011, but it was only one game! A single opening game like that is more of a teaser, a preview of what was coming on Sunday.
Ten years ago on the first Sunday following the 9/11 disaster the NFL cancelled all footballs games out of respect for those who died in the worst terrorist attack in our nations history. It was a grand gesture. Yesterday, ten years later the NFL put on spectacular ceremonial tributes before the start of each game, to honor the memory of the victims of 9/11. In ceremonies and events across the country our fallen heroes were remembered and memorialized. Yesterday 26 teams went head to head in their season openers, 13 emotionally charged games, as each team played their hearts out in tribute to the 9/11 anniversary. It was an incredible opening Sunday!
For those of you who had to settle with network TV you could only watch the two games local network affiliates chose to broadcast, one in the morning and one in the afternoon. In L.A that was the Ravens -Steelers massacre and the Chargers- Vikings. At least one of them was a decent game. In the evening you probably tuned in for the nationally televised game  between the Cowboys and the Jets. Not a bad selection for opening day, but if you're a real football junkie you probably have DirecTV and watched any game you wanted or maybe all the games!
There's nothing like kicking back in front of the big screen, remote in hand, scanning all the games, using the PIP  split screen or parking it for awhile on the Red Zone catching all the scoring drives. Yeah the NFL package is pretty awesome! And if you have to go out somewhere or run some errands you can take the NFL with you on your smart phone and never miss a thing! Technology is a wonderful thing, most of the time.
Yeah, there is definitely something special about Sunday football. We had a houseful yesterday. Besides my wife and youngest son my nephew and his girlfriend came by in the morning and stayed for all three games. A few hours later my niece and her husband and two kids came by, then my daughter and son-in-law showed up with their kids for the for late game. Yeah it got pretty crazy for awhile, and was a little loud, but it was sure a lot of fun!
Some of us are fantasy football fanatics, so we were not only watching the games but keeping an eye on our players point status. I'm actually doing pretty well for week one. My team "The Buzz Kill" is going into tonight's games 3 points down but I still have my kicker who averaged 9 points a game last season and my tight end who averaged 7.5, left to play. My opponent has only a defensive end who averaged 3 points per game, so my chances of coming away with a win are looking pretty good. I'd really like to beat this team. Last year we played to a tie and rather than remain a tie, he got the win based on bench points because of a rule change by our commissioner, who doesn't believe in ties. Oh well.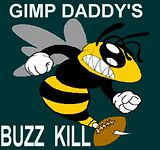 Tonight's game is only hours away so I just have to ask," Are You Ready for Some Football?"  I certainly am!
JS
Facebook Comments